Note: Please wait up to 30 seconds for the above video until the advertisement not finished.
If the video player does not load, please try Mirror 2 or 3.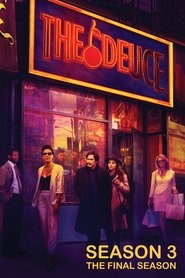 The Deuce Season 3 Episode 8
Big changes come to The Deuce as Gene sees opportunity in the city's public health crisis. Vincent looks to get out from under the mob's thumb and makes peace with Abby. Candy makes a critical choice in her relationship with Hank. Series finale.
Series: The Deuce
Director: Bellamy Forrest, Matt Lake, Roxann Dawson
Star: Aaron Dean Eisenberg, Alex Kramer, Allan K. Washington, Andrea-Rachel Parker, Anwan Glover, Ariel Eliaz, Audrey Lynn Weston, Brandon Petty, Calvin Leon Smith, Corey Stoll, Dennis Staroselsky, Don Harvey, Gary Carr, Geoffrey Cantor, Jake Ventimiglia, James Martinez, Jamie Neumann, Jonathan Stewart, Kevin Breznahan, Kim Director, Lawrence Arancio, Mackenzie Lansing, Method Man, Michael Gandolfini, Mustafa Shakir, Pernell Walker, Ralph Macchio, Roberta Colindrez, Thaddeus Street, Thom Niemann, Timothy Carter, Vasile Flutur
Episode Title: Finish It
Air Date: 2019-10-28